Note: Since this post was published, MooChews has changed its name to MooTugs. The name was changed to clear up confusion about the nature of the toys. MooChews/MooTugs are tug-of-war toys, not chew toys. Their new website is www.mootugs.com. (April 2014)
We dairy farmers use inflations for harvesting milk.
For you non-farmers, inflations are the rubber tubes that attach to cows' teats when the cow is being milked. Milk from the udder flows through the inflations, into the milking machine (pictured above) and then to the pipeline and bulk tank. Below is what an inflation looks like when it's not installed in a milking machine.
Because inflations must always be in excellent condition, both for the cows' well-being and to ensure food safety, each set of four inflations is used for only a short time before being replaced with a new set. Exactly how long each inflation is used varies with each farm, depending upon how many cows are milked, how many milking machines are used and how the milking machines are cleaned after each milking. On our farm, inflations are changed every three months.
So, what happens to all those used inflations?
Well, if you're one of our kids, you turn them into hoops...
And necklaces...
And trains...
And snakes.
But, if you're Dan and Cristen Breuer, the ingenious creators of MooChews, you upcycle those used inflations into dog toys, like the one below.
Even Ozzy thinks it's the most brilliant idea for a dog toy (but wouldn't smile for the camera).
I first learned about MooChews this spring when Cristen contacted us to ask if we'd be willing to donate our used inflations to MooChews. Of course, since I'm unconditionally obsessed with recycling, I agreed. On most dairy farms, used inflations have no purpose so they are discarded; prior to Cristen's request, ours were thrown away, too.
Now, Cristen and Dan come out to our farm every couple weeks to pick up our used inflations and the used inflations from several other farms. Our milking equipment company collects used inflations from its clients' farms and drops them off here. Dan and Cristen also get inflations from Cristen's family's dairy farm in Colorado and a couple other Minnesota dairy farms.
Before Dan and Cristen turn the inflations into their tug-of-war and fetch toys, they soak, scrub and sanitize the inflations in their home. But even after all that cleaning, the inflations still smell a little bit like dairy farms, which, according to Cristen, makes the MooChews toys irresistible to dogs.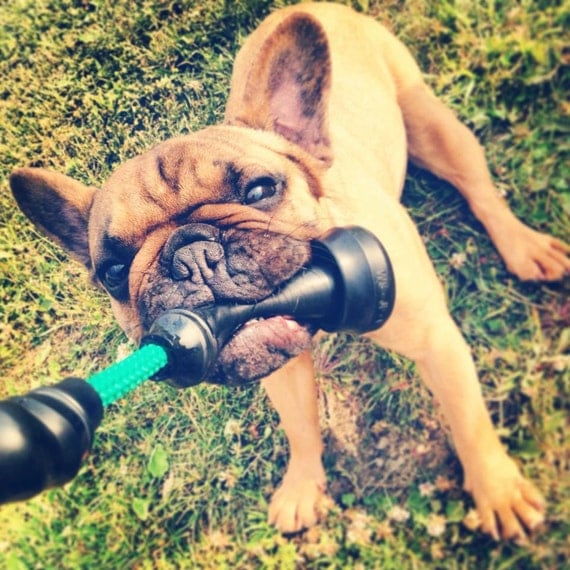 Photo used with permission from MooChews
You can read the whole story behind the invention of these clever dog toys – and the company's contributions to dog rescue charities – by visiting the
MooChews website
or checking them out on
Etsy
and
Facebook
.
And, if you'd like one of the great MooChews toys for the canine in your life, you can get free shipping by entering the code
BDDAIRY1
at checkout.